You've probably seen a few television sitcoms that depict unsafe homes having 10 locks running up and down the doorway. Do you really need to have several or more locks on your door in order for you to feel safe? If you select the right type of home security door locks, you should only need one lock on your door.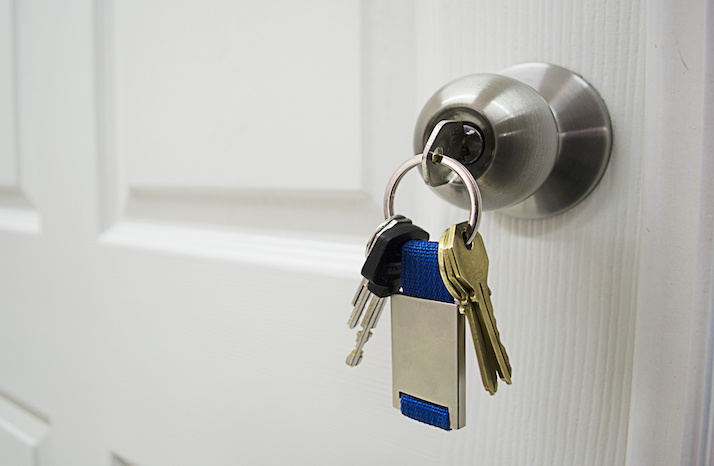 Image: simplisafe.com
There are some factors to consider when choosing the best door locks for your home:
Sturdy home security locks are the best type to use for your outside doors. These should be deadbolt-style locks. Deadbolts provide the best method for sturdy locking of any door.
Choose heavy-duty home security door locks. Don't skimp or try to save money on this important area. Larger, thicker or heavier locks are the sign of a sturdier lock and will provide you with the ultimate in home security.
Add a security chain in addition to your main deadbolt lock. Keep the chain latched when you are at home in order to provide some additional protection when you do open the door.
Use a double lock method for locking the main entrances to your home. This means that you should use both the lock that is part of the doorknob (if there is one), as well as a separate deadbolt lock that is typically installed above the doorknob.
Have your home security locks professionally installed. Incorrect installation can lead to problems with home security. The best home security door locks require installation by someone who has experience and the correct tools to use for proper installation.
Install a peephole in your door if you don't already have one. A peephole allows you to see out your front door before you open it. Never open your front door for a stranger.
Add a security camera to your front entrance. A security camera will provide you with access to view what is happening at the entrance to your home and will also act as a deterrent for potential thieves.
In addition to a security camera, add a motion sensor light. The light will go on any time someone approaches your front entrance, allowing you to better view who is there before opening the door.
Change the locks when you move into a new home. Don't assume that the previous owner has surrendered all the keys. Have new home security locks installed on all outer doors or windows as needed, including garage doors.
Strong, thick doors, such as those made of heavy steel or solid wood, are much better than thinner. Kicking the door in is a common way for burglars to open locked doors.
Conclusion
Putting good home security locks on your doors will protect you from possible burglaries and will give you peace of mind that you need to feel safe in your home. Use home security locks in conjunction with other security measures to ensure that your home is as safe as possible. To make sure that your home is as secure as it should be; walk around your home in both daylight and in the dark. Make notes of what areas need attention and then put some effort into adding security in these areas.